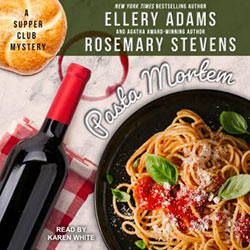 Pasta Mortem
A brand-new book in the harrowing and heartwarming Supper Club Mystery series by New York Times bestselling author Ellery Adams and Agatha Award–winning author Rosemary Stevens!
Librarian James Henry and his supper club sleuths will take a trip down memory lane searching for clues that will help catch a killer . . .
When the cast of the old Hearth and Home TV show gather for a twenty-fifth reunion at a local bed-and-breakfast where the show was filmed, the townsfolk are thrilled to meet the actors and relive their memories of a simpler time. Their nostalgic mood is broken, though, by an ambitious real estate developer who has also come to Quincy's Gap with an eye toward turning the quiet town into the South's hottest new tourist destination. Tensions are boiling over, and when the developer gets a little too sauced one night at the B&B and turns up dead the next morning, James and the supper club will have to put aside their distaste for the victim to help nab the culprit.
It looks like an open-and-shut case, but James and his friends are convinced the main suspect is innocent and promise to help get her out of hot water. Dividing their time between the investigation and the reunion festivities, they're shocked to discover that members of the cast are guarding some very unsavory secrets. With time running out before the actors leave town and the trail of clues goes stale, the supper club will have to turn up the heat on a suspicious character before the killer serves up another murder.
Includes mouthwatering recipes!